Online Platform for Seafarers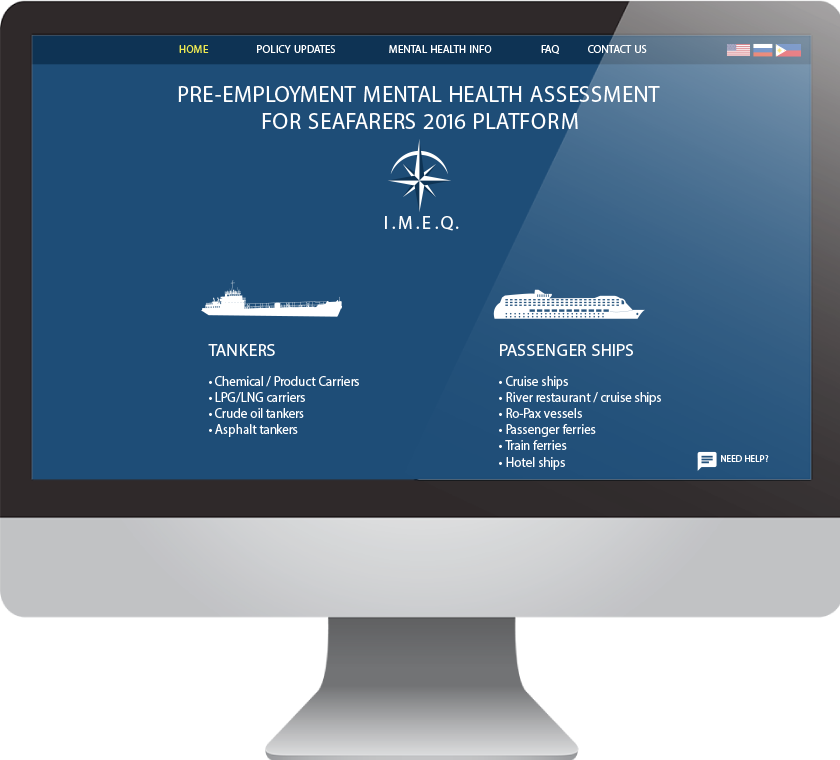 I.M.E.Q.© Center specializes in the selection and assessment of seafarers with main objective to reduce Human Factor induced incidents. Our highly experienced team of Mental Health professionals administer, evaluate and interpret our portfolio of psychological assessments via our Unique Online Platform.
An in-depth and systematic recruitment process that includes a battery of tests to measure and evaluate a person's current mental status, decreases the risk of mental health issues and accidents on board. Additionally, such process can increase crew's effectiveness and dealing with stressors at work, overall team performance and avert dire situations associated with economic loss and damage.
At our Center we have developed a comprehensive battery of assessments for both cadets and officers, that includes both standardized and non-standardized tools, to effectively evaluate the mental health status of seafarers, provide ongoing evaluation programs and televised methods to address mental health issues.
The reports that follow are intended to provide information regarding the applicants' suitability for service of duty by providing information on five primary dimensions of symptoms, personality and their corresponding facets, that include the Personal Work Style, Detailed Personality Inventory, Resiliency and the Psychological Inventory Profile Reports.
ATTEST is not a psychiatric diagnostic tool but a comprehensive evaluation that aims to determine whether candidates currently manifest symptoms of emotional or mental conditions that could substantially impair their performance of essential job related functions with or without reasonable accommodation. The report intends to provide information on the basic facets of personality related to work style and correlates on Styles of Well Being, Styles of Anger and Impulse Control, Style of Interaction and Coping Defenses and Styles.
Promote Wellness at Sea
Address Mental Health Issues
Assure Safety Onboard
Prevent Incidents Onboard
Ensure Team Effectiveness
Create Tailor-Made Monitoring Plans
Controls and Manage Risks
Reduce Costs
Methodology of the platform process
The method used for the Pre-Employment Mental Health Assessment for Seafarers Platform will be as follows on the customer's side
Our customer will provide their seafarers with a reference number
The seafarer will acquire the link to our platform.
The seafarer will then have to choose on first page the vessel type of applying for recruitment.
The seafarer will log in by completing fields: Name, Surname, Reference Number, and Job Title.
Depending on the job title (either officer or cadet), the seafarer will be presented with relevant tests that must be completed in a specific time frame.
In case of not passing test or tests, the seafarer must complete another set of psychological tests that will assure validity of scores.
All psychological tests are scored by our certified mental health professionals
A brief report, or a detailed one upon request, will be shown on our customers' unique company page which will present all reference numbers of seafarers and their details.
Scores, and further details must be kept confidential only for the files of the mental health professional who is in charge of each case.
The specifications of the Pre-Employment Platform include a monitoring camera, online chat 24/7 availability to customer service, languages provided are Greek, English Russian, Philippian and Ukrainian. It is a secure database that will save all test results and history records of scoring and reports.
Tests are samples of behavior.
Tests do not directly reveal traits or capacities, but may allow inferences to be made about the person being examined.
Tests should have adequate reliability and validity.
Test scores and other test performances may be adversely affected by temporary states of fatigue, anxiety, or stress; by disturbances in temperament or personality; or by brain damage.
Test results should be interpreted in light of the person's cultural background, primary language, and any handicaps.
Test results are dependent on the person's cooperation and motivation.
Tests purporting to measure the same ability may produce different scores for that ability.
Test results should be interpreted in relation to other behavioral data and to case history information, never in isolation.
All tests are standardized and all scales have been found to generalize across ages, cultures and methods of measurement.